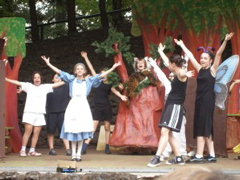 New Moon Productions is a children's theater company that offers a variety of outreach children's theater programs to schools and organizations in our Portland, Oregon as well as across the US.
We work with you to customize a program, workshop, or camp, then our professional instructors come to your location to share the wonderful world of theater with your students.
For more information and a price quote, fill in the Inquiry Form or contact us.
An innovative and fun children's theater education program that strengthens elementary students' literacy skills while they rehearse and perform a play. Learn more »
Our Summer and school break theater camps offer students of all ages a chance to perform in a play or musical. Every performer gets their moment to shine! Students go through the audition process, rehearse the play or musical, strengthen their performance and acting skills, and perform the show for the community at the end of the summer camp. Camps typically run for 1-4 weeks. Learn more »
We will bring a professional play or musical director to your school or organization. Our directors have strong experience with youth actors and will bring out the best from your young performers. Be it a one act play, full length play, musical, variety show, or talent show, our director will make your young performers shine! Learn more »
We offer a variety of children's theater residencies customized to your organization or school's specific needs and goals. Typically, residencies focus on one or two specific areas. The length of the residency is flexible, though they typically run for at least 10 classroom hours. Learn more »
We offer a variety of children's theater workshops customized to your organization or school's specific needs and goals. Typically, workshops focus on one or two specific areas. The length of the workshop is flexible, though they typically run for at least 2 classroom hours. Learn more »
An enriching and life affirming children's theater education program where students create and write a play or musical based on a theme, idea, or issue that is important to them. Learn more »
Is your young actor looking to sharpen his or her acting or audition skills? Our professional instructors offer detailed one-to-one instruction that focuses on the specific area(s) the performer wishes to strengthen. Scene study instruction is also available for groups of 2-4 students. Typical sessions last for 60-90 minutes. Learn more »
Overwhelmed with all the details of putting on a play or musical? New Moon will provide an experienced theater producer to take all the work off your hands. Whether you want us to handle specific areas or the entire production, our producer will take care of it so you can focus on having fun! Learn more »