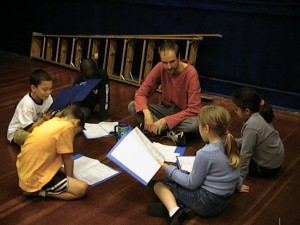 Our Drama Literacy Program is an innovative children's theater program that serves thousands of elementary and middles school children every year. The programs encourages students to put into direct practice, through a language-based art form, the literary skills they are learning in the classroom. Professional instructors work hand-in-hand with the school's teachers to help students with comprehension, interpretation, and teamwork. Students also love the opportunity to perform plays for their peers, parents, and local community!
Students taking part in the creation, rehearsal, and performance of a play provides them a unique experience to boost their literacy skills, their confidence and creativity, their ability to work collaboratively, and their interpersonal skills, all of which are major assets that will serve them well in the future. To bring this enriching program to your location, please contact us.
Drama Literacy Programs have run at D. A. Grout Elementary (every year) since 2003, 6 years at Lewis Elementary, and 3 years at Roseway Heights School.
Here's an outside perspective on the Drama Literacy Program from volunteer Linda Chase, during her One-Week Job Project.
*** FREE PUBLIC PERFORMANCES! at D.A Grout and Roseway Heights Schools. ***
"It was my privilege to work with Michael Wehrli and New Moon Productions for eleven years now at Daniel A. Grout Elementary School. It was a wonderful addition to our literacy and arts program and one enthusiastically supported by our entire staff and community."
Susan McElroy, school principal, PPS Principal of the Year (2013), retired

Benefits of the Drama Literacy Program
Students:
put into direct practice the literacy skills learned in the classroom
express their emotions in a safe and supportive environment
experience their imaginations being celebrated and encouraged
increase their self-confidence and enhance their self-esteem
improve their communication and interpersonal skills
are focused and disciplined in their approach to acting and text comprehension
increase their ability to work collaboratively
appreciate other cultures and ideas
help to foster community by bringing families together with their performances
Program Details
The information below represents how the program has typically run in the past, but any aspect of the program can be modified to match your school's specific needs and goals. Contact us to request a quote and bring the Drama Literacy Program to your school.
Ages: Grades 2-5, K-1, and middle school
Group Size: 10-25 students
Days: Monday-Thursday (sometimes Friday)
Hours: elementary age-2-3 hours per day, 4 groups @ 30-45 minutes each, middle school age-1-4 groups, 2-4 hours a day
Duration: 2-7 weeks/sessions for Grades 2-5 & middle school, 2-3 weeks/session for Grades K-1
Dates: Early September through early June
Professional Instructors: 1-2 (depending on class sizes)
Over the course of the program, students work on text comprehension and interpretation, ensemble building, improvisation, character development, voice and diction, and stage movement, while rehearsing a play. The play is based on a book or story, chosen with a focus on challenging students' current literacy skills. Chosen plays and stories have included:
Aesop's fables
Tales of Anansi
Alice In Wonderland
Arthur
Charlotte's Web
Dr. Seuss books
Fairy tales
Freckle Juice
International Folk Tales
Junie B. Jones
The Jungle Book
The Kid Who Ran For President
Many adapted international folk tales
A Midsummer Nights Dream
Shel Silverstein poems
Sideways Stories from Wayside School
Snow White: The Melodrama!
The Addams Family
Vampires Don't Wear Polka Dots
Winnie The Pooh
Original plays written by the students
The Zack Files
and many many more.
At the end of the 2-7 week session, students perform their plays once for the entire school and again in the evening for their parents and families. Grout Elementary students also perform at a retirement home across the street. Performances include basic costumes, props, and sometimes scenery that the students make themselves.
Typically, K and 1st graders do not perform. We want them to be comfortable on stage and learn the basics of acting and performing without the pressure of having to perform for others. Usually, we work with these age groups for 2-3 weeks. However, if your school wishes them to perform, it can be arranged. Middle school workshops sometimes occur after school.
Remember, any of the above details can be modified to match your school's specific needs and goals. For a price quote and more information about bringing this program to your school, fill out the Inquiry Form or contact us directly.