---
IT IS WITH DEEP SADNESS WE ANNOUNCE THAT WE WILL NOT BE ABLE TO OFFER ANY SUMMER THEATER CAMPS THIS YEAR.
WE WILL BE BACK IN 2019!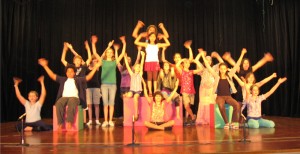 Young actors will feel the thrill of performing a play or musical revue at a Theater Auditorium! The all-youth casts will be in costume, use props, and perform for an audience at the end of the camp!
Students build their creative skills in several areas, including: audition technique, acting, improvisation, character building, stage movement, voice production, and other areas of performing. Every day, students will work with the instructors on improving their artistic skills as well as rehearsing the show.
The camps are open for students ages 8–18.
Prior experience in theater classes or shows is recommended.
Camp takes place in the Theater Auditorium of D. A. Grout School (3119 SE Holgate) in Portland, Oregon.
Camps run (1) one week – Monday-Friday – 9:00am-4:00pm
Performances will take place in the late afternoon or evening after the last day of camp.
Scroll down to see our offerings!
---
TUITION
Winter Break Camps: $250 – only $6.58 per classroom hour!
Some partial scholarships are also available.
There are only a few, so please register right away.
To apply, please email your request to newmoontheatre@gmail.com.
*** Limited Enrollment! Sign Up NOW! ***
---