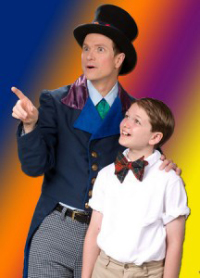 New Moon Productions is a Children's Theater Company that provides outreach programs, acting classes, summer camps, and fully staged performance opportunities to youth actors of all ages. Our innovative programs are designed to foster children's creativity, literacy skills, self-esteem, collaboration, and strong work ethic.
Since our founding in 1994, New Moon has provided over 30,000 children with enriching theater experiences, both in the classroom and on stage, and presented engaging and memorable performances to over 70,000 audience members.
Our children's theater company is based in Portland, Oregon & Frankfurt, Germany. We offer programs to schools and organizations in our communities and across the US and Europe.
We value:
A safe and supportive environment to express emotions and thoughts.
Celebration and encouragement of imagination.
Opportunities to increase self-confidence and self-esteem.
A focused and disciplined approach to acting, text comprehension and interpretation.
Putting literary skills into practice through a language-based art form.
Increasing ability to work collaboratively.
Appreciation of other cultures and ideas.
Fostering community.
We offer: